Hey everyone, a quick update and some exciting news!
Arsenals will begin to ship on Monday, June 4! We've delivered three batches of units to our fulfillment center, packaged up a bunch of units, and are about ready to unleash Arsenal. We're very excited to deliver Arsenal to all of our backers and pre-orders.
As a reminder, this is only the beginning of the shipping process. We're starting in small groups and then ramping up shipments to ensure a positive outcome and experience. When your order ships, you will receive an email confirmation with tracking info. You will receive additional notifications when the shipment reaches various key stages (out for delivery, delivery complete, any exceptions, etc.). We're really sorry, but for a variety of logistical reasons we cannot provide time estimates or updates on specific orders before they ship.
The last few weeks have been something of a roller coaster as mid-production issues popped up (don't worry, we've worked through them). The main issue involved mid-run units starting to fail our tests for the EMMC (flash memory). After quite a bit of work, we managed to track the issue down to a EMMC driver configuration that only affected certain runs of the EMMC. Fortunately we were able to fix the issue in software.
After we finished with those production issues the team moved back to working on outstanding software bugs and interface improvements. Our testers have been doing a great job providing a final round of feedback. We still have a few bugs left to knock out in the next week, but we wanted to get Arsenal in everyone's hands. (We'll be pushing lots of firmware updates for bug fixes, new features, etc.)
The Arsenal apps are in the approval process for iOS and Android.They'll be in the app stores very soon, but we didn't want that to prevent us from shipping. Anyone who receives units before we are approved will also get a TestFlight invite or APK file install instructions so you can use the app while we wait. There's no difference in functionality between the test and production versions, so you'll get the full Arsenal experience. We'll also announce when they are approved so you can download them from the app stores.
The iOS version of the app has a demo mode that lets you walk through all screens and settings. If you're interested in checking it out before the iOS app is approved, we can send you an invite to download the app through Apple's TestFlight. Shoot us a note at (testflight@witharsenal.com) from your AppleID email and we can send you an invite. Unfortunately the Google app doesn't have a similar demo mode. Obviously, many features don't work without the Arsenal hardware, but the demo mode lets you get to know the app.
Due to limited time, the team has been focusing mostly on bug fixes and improving the onboarding experience. So as not to delay shipping, we've had to push the Holy Grail timelapse feature out into the first firmware update. The Holy Grail auto exposure algorithm is working well, but still needs some tweaking and more real world testing before it's released (since tests usually take 4+ hours we haven't been able to run enough tests yet). The Holy Grail mode needs to be extremely dependable since there's nothing worse than losing a long timelapse to exposure problems. In the meantime, all other timelapse features are available using manual controls.
I know everyone is chomping at the bit to get their hands on Arsenal. We have over half of the first batch of Arsenals produced and in various stages of the process, including testing, in the process of transferring to our fulfillment center, or at the packaging stage. We're going to ship them out as quickly as we can without sacrificing quality. We'll be constantly listening to your feedback to ensure that level of quality is met. If all goes smoothly we still expect to ship all confirmed orders in June.
We also spent much of the last month preparing video tutorials that will also help you get set up and optimize your Arsenal experience. We've been shooting those over the last week-plus and they're currently being edited. They'll be up, along with the manual and some other tools, when we launch our support page next week. Below is a shot of our production crew readying for a shoot.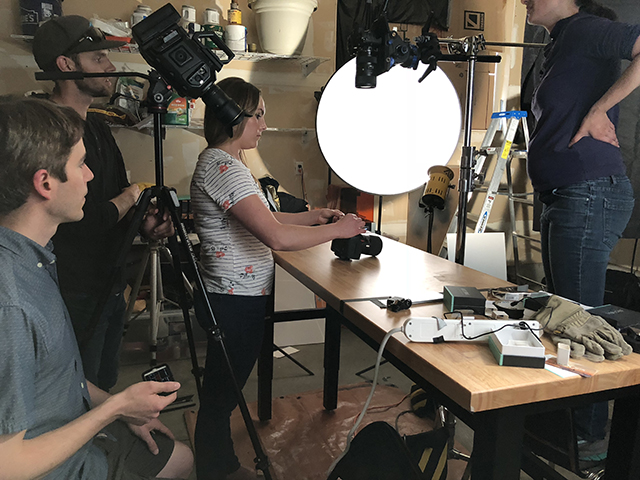 Also, one final note: our support team is being trained to begin answering more technical questions. It would be really helpful if folks could avoid asking shipping timeline questions about their specific order. We are fulfilling in large batches that take time to go through each stage, and as such we can't pinpoint exactly where a particular order is until it has shipped. Also, by letting the support team focus on expanding their knowledge base we'll get Arsenals out faster and with better support. We'll post updates so everyone knows the status as we have them.
For those that pre-ordered by March 31, your Arsenal will be arriving very soon. For our second group of pre-order customers, thank you as well. We're confident we'll be shipping on schedule in September. Look out for another update very soon which will announce the approvals from Apple and Google.
While the Arsenal team has lots of previous experience in each of their fields, Arsenal itself has presented us with many challenges and learning experiences we haven't seen before. Thanks to the team for rising to the challenges. The fun of a startup is being free to solve problems in new and interesting ways. Arsenal is no doubt an ambitious product. The timeline setbacks were hard, and we had to make some hard choices between cutting corners and putting out an inferior product, or taking the time to properly handle issues and make sure things got done right. Even with the challenges, I think Arsenal is set to be a product that many people use every day and really makes their lives easier and more enjoyable.
Thanks to the Arsenal team for the incredible hard work (especially this last month). And thanks so much to all of our backers for their patience and support.