Hey everyone, Ryan here.
The Arsenal team has been very heads down since our last update, primarily focused on addressing the timeline delays but also continuing to test and improve the software, so let's jump right in.
Timeline
While we've been able to solve a number of the parts availability challenges due to the worldwide chip shortage, we haven't been able to solve them all. More on that below, but it does mean that we have to push our shipping target back from August to late October/early November.
While the team made heroic efforts to try to meet the schedule (scouring the world for parts, quickly redesigning the PCB to accommodate alternate parts, and crunching the schedule as much as possible) there were obstacles that we simply couldn't overcome.
When we placed our parts orders in December we never would have imagined we wouldn't have all of them by now. I'm not here to make excuses, but we always want to be transparent with our backers and today's no different. To that end below we'll give you the details about the challenges we're facing, where we are, and what the future looks like.
Parts Availability
As we've mentioned in previous updates, the worldwide chip shortage has caused the lead times on several components to jump to staggering numbers. Some suppliers are now quoting >52 week lead times, which we've never seen before. We've been able to address some components through spot buying (paying a premium to get them sooner), but this was not possible or feasible for several of them.
Our goal is to get Arsenal 2 out the door as soon as possible, so we decided it was prudent to make some design changes to address some of these hard-to-find components.
One example is the gyro/accelerometer. A lot of the parts are too integrated into the design to change out, but the gyro isn't one of them and we couldn't wait for a >52 week lead time. After evaluating 14 different alternative gyros (none of which were immediately available), we found one with the same noise profile and sensitivity which we could get in a reasonable timeframe. After quite a bit of work on the software side (and some board updates), we were able to get the new gyro up and running and working the same as the previous gyro. The cost of this accelerometer is much higher than the original, but at least we can get them, so we made the decision to pay more.
Another example is the USB Controller. We were able to make a minor adjustment to the design to allow for 4 additional alternatives for this part. One of these alternatives was in stock, so we were able to check this off the long-lead time list.
So that's the good news. The bad news is we're waiting on the one component everyone making similar products is waiting on - the Wifi Module. We've solved all of the other long-lead time components, but sadly there are no alternatives for the Wifi Module (without starting over on board design, regulatory testing, drivers, etc.).
The demand for Wifi Modules is so high that the manufacturer has contracted a second IC foundry to start making them as well - an unusual step in the industry. This second IC foundry is TSMC, the largest foundry in the world. This is a good thing, as the increased production should start to meet the high demand soon, but we still haven't been given a confirmed date of when the parts allocated for us will be delivered (we're in line, they just won't give us an exact date).
We're moving the shipping target back to late October/early November based on what we're hearing from the contract manufacturer and suppliers. If we can get the Wifi Modules by the end of September, we can mass produce Arsenal 2 in October and ship in late October/early November. It's possible we'll solve the Wifi Module issue sooner (we could get the call tomorrow that we're up on the list), but the current timelines we're hearing lead us to the late October/early November dates. We'll certainly keep you updated as we know more, and we'll stay in constant contact with our supplier, pushing them to deliver the parts as soon as possible.
While the parts availability is the headline of the update, we have been making great progress elsewhere and wanted to share some other updates.
Software
The software team and I have been going back and making some improvements to some of the ways Arsenal 2 controls cameras. There were a lot of assumptions about the way cameras handled things that we've been revisiting since the Arsenal 1 days. We've been writing a lot of "calibration tests" that run on the [banana stand[(https://www.youtube.com/watch?v=mEaolyshoSY) to confirm how cameras behave in different states, and when transitioning between states. We've caught some long standing bugs along the way and been able to improve performance by avoiding unnecessary communication with the camera (especially during triggers).
Preview Images
We've been adding a lot of quality of life things to Arsenal 2 lately. Ben took some time to improve the thumbnail viewer to better show what's going on with images when doing stacks.
Preview of the new stacker thumbnails (in real time)
Star Tester
After a lot of sleepless nights trying to test our night focus on different camera/lens combinations, we hit my least favorite season in Montana, forest fire smoke season :-). This put a halt to my testing. To be able to continue testing, and to get something more reproducible, Phillip and I (ok, mostly Phillip) built a "star field analog device" (basically a black board with a lot of tiny surface mount LEDs on them). After some brightness calibration, we now have a much better way to test night focus. It's not a 100% replica, since the lenses have to travel a bit further from the far end before they hit stars, but it definitely is enough to continue our testing/improving on star focus.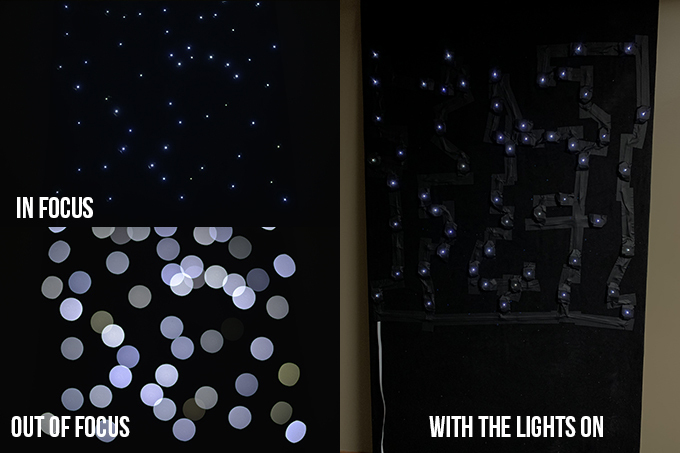 Crowd Control
I wanted to show the updated for Crowd Control. Being able to stop the stack when everyone disappears makes it so you can always be sure you get enough shots.
A quick demo of crowd control (sped up). Sorry, I didn't have a crowd handy. :-)
Hardware
To conclude our prior discussion regarding the PCB assembly process, I'd like to share some photos of the custom solder paste stencil and squeegee. If you'll recall from the previous updates, our solder paste stencil has a special raised surface around a part protruding past the top surface of the PCB (the antenna). Here is a photo the shows how the microslits allow the squeegee to flex back around the raised surface in the solder paste stencil: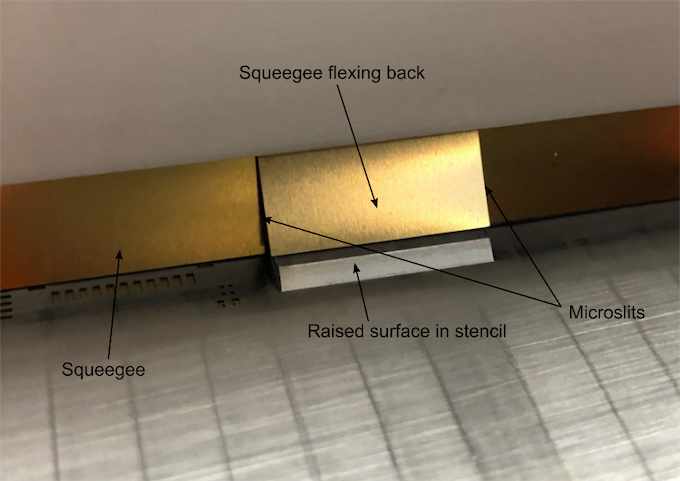 Here is a photo of the full solder paste stencil and squeegee loaded in the screen printer: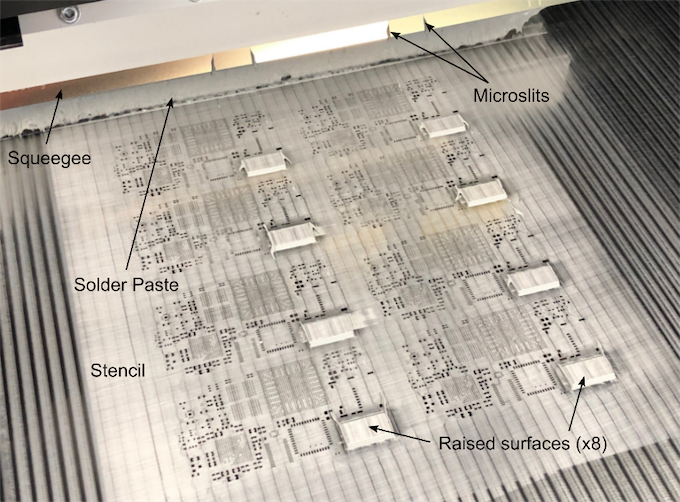 And finally, here is a picture of the PCB loaded with solder paste: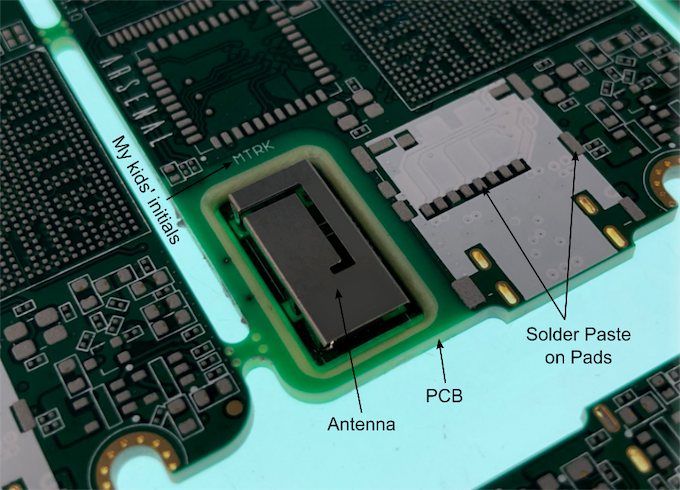 The Manual
In the last update I mentioned the video tutorial series we've been working on. I wanted to also mention that we're updating/improving our manual for Arsenal 2. In addition to going into detail on every feature, we're taking some of the content/examples from the tutorial series and adding it into the manual where it makes sense.
Wrap Up
Going forward, we'll continue to be focused on acquiring the Wifi Module components until we have enough to fulfill our Kickstarter pledges. While it may not feel that way given the delayed shipping target, we are getting closer to launch - the list of items to complete before shipping continues to decrease. And, based on the testing we've done, we can't wait to share Arsenal 2 with you. It's a really huge improvement in speed and usability, and the new features are a bunch of fun. Thanks again for your incredible support throughout the launch process. More to come soon!